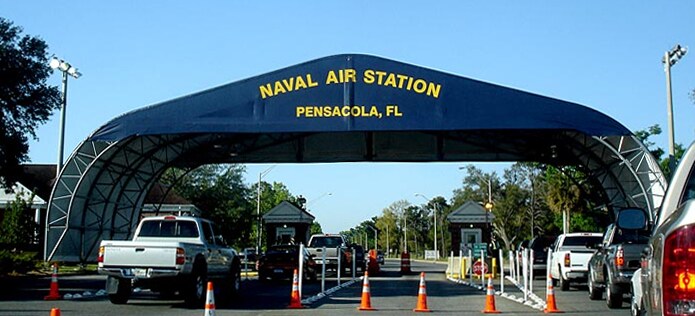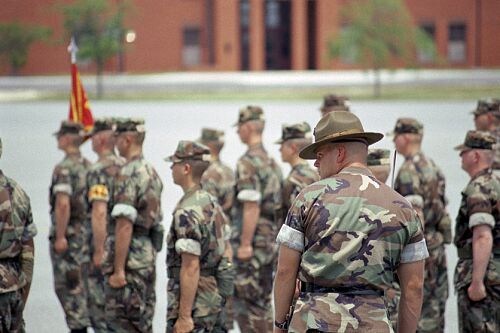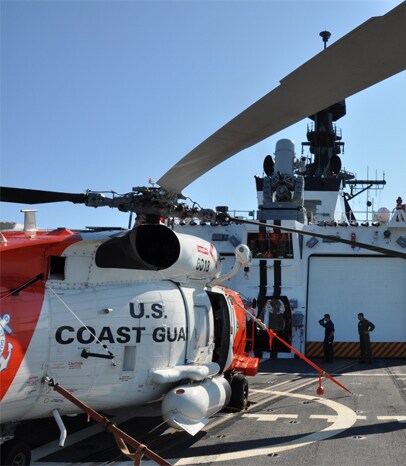 MILES Military Financing Program

MILES is a leading auto loan provider designed exclusively for Active Duty Military. Recognized for our integrity, we only finance quality vehicles that are affordable for our service member customers. Our auto loans are financed by US Bank, the 6th largest bank in the United States. Through consistent payments made through an allotment, and by having a major national lender on their credit report, our customers are building the foundation for good credit.

The loan approval process is simple and quick. If you are in need of a loan for a new or used vehicle call us at (866) 702-3189 for more information. Over 75,000 Service Members have already chosen MILES for their vehicle purchase.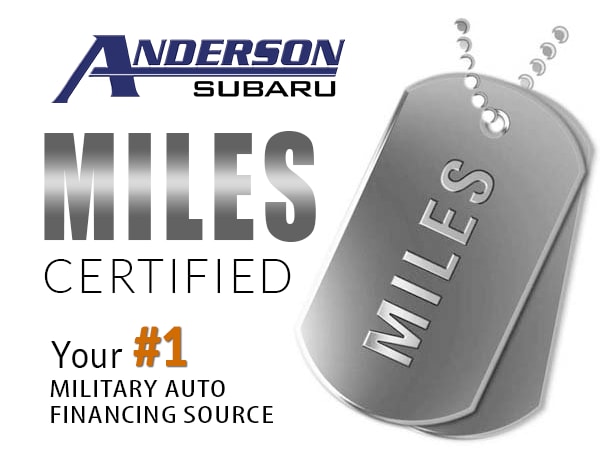 Find your MILES Approved Subaru or Used Vehicle at Anderson Subaru Today...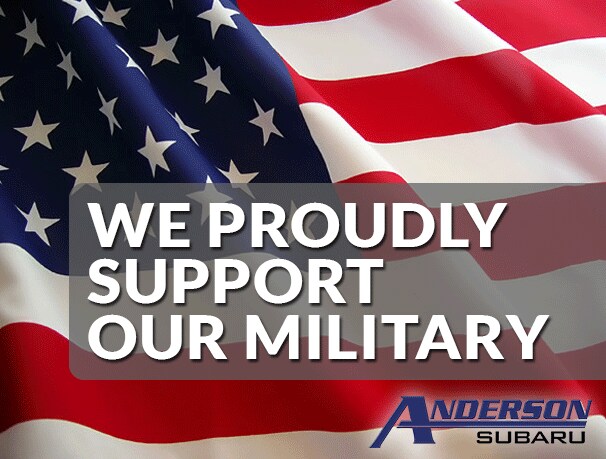 Anderson Subaru Proudly Supports Our Military

Pensacola has a long-standing military history and we are proud to be a part of it! We are honored to service our local military customers' automotive needs. We work with our military to make sure they get the best deal when shopping for a new or used vehicle. Customers who request military discount in Parts or Service and produce a valid military ID, receive a 10% discount (cannot be combines with other offers or coupons).

Ask us about military discounts and financing the next time you're shopping with us!

FAQ's about the MILES Military Financing Program

Am I eligible to apply for a loan?
  If you are an active duty Service Member, E1 and above, you are eligible to apply for a loan through the MILES Program. However, other requirements may apply.


Do I need good credit to apply?
  No, MILES is a non-credit score criteria based program.


What loan amount do I qualify for?
  The MILES Program wishes to prevent you from committing to a loan payment larger than your income and spending plan can afford. Your maximum loan payment will be the lesser of:
A percentage (27%(E-1 - E-3)) or (30% E-4 and above) of your monthly base Pay, OR

45% of your total income less your monthly financial obligations, such as credit card balances, repay advances, installment payments, rent/mortgage payments(not offset by BAH), or child support, alimony, and garnishments.
This formula, of course, assumes you are prepared to take on the responsibilities of loan payments and vehicle ownership.

How is the term of my loan determined?  Our lender, US Bank, has agreed to authorize the term of your loan up to twice your remaining time on your active duty contract, to a maximum term of 60 months. For example, if you have 24 months remaining on active duty, you will be authorized for a term of up to 48 months.


When is my first payment due?
  The first payment due date of the loan is the first day of the month following the full month after the date of your loan contract. For example, if your contract date is anytime during the month of April, your first payment due date will be the 1st of June.


How do I determine the cost I should pay for automobile insurance?
  Like shopping for an automobile, it also pays to shop around for car insurance. Premiums can vary by hundreds of dollars among insurers for the same vehicle. Premiums are affected by the following: your driving record; your age; your credit score; gender or marital status; make and model of the vehicle, your state and city of residence.


What type of vehicle standards are enforced with the MILES Program?
  To maximize the quality and value of your vehicle purchase, the following standards are required for vehicles purchased through the MILES Program:
Used vehicles must have less than 65,000 miles.

The vehicle cannot be more than 5 years old

New vehicles may not be sold for more than the Manufacturers Suggested Retail Price (MSRP)

A CARFAX or AutoCheck report is required for all used vehicles

There is a 24 hour return policy on used vehicles

High performance and sports vehicles are excluded from the MILES Program
What happens when I separate from active duty?
  Your allotment will normally stop between 60-90 days prior to your expiration of active duty. Prior to it stopping, you should contact US Bank customer service to receive transitional counseling and enroll in an alternative payment means to protect your credit and the payment investment you have made. The US Bank customer service number is 1-800-872-2657. Please have your loan number available when contacting the bank.


Can I ship my vehicle overseas?
  To accommodate and reward service members with loans originated through the MILES Program, who have satisfactorily performed their loan obligations, US Bank may approve the overseas shipment of a vehicle, provided all of the following conditions are met:
Vehicle shipped must be approved by the military and shipped at government expense.

Service Member must provide the bank a copy of the permanent change of station (PCS) orders

Loan must be current at time of the request, including any late charges outstanding

Loan payment allotment must be in force and being received on a consistent basis

Insurance for vehicle must be verified

Service Member must pay an amount equal to one (1) monthly contract payment which shall be applied towards the principle balance of the loan
Will I qualify for the MILES Program? Will They Look at My Credit Score?
  Credit is a transaction in which a person receives merchandise, an automobile, money or services for little or no money up front, and promises to pay in a specified time period (term). How well, or not so well you pay for these items are the ingredients which determine your credit score. Your credit record means everything when it comes to borrowing money. Credit reporting agencies collect information about a person to build an individual's credit record. If you have a positive credit history, you have more options than the consumer with little or no credit or a poor credit record. For a bank or credit union to lend you money, they need to know how reliable you will be in repaying the loan. Lenders base their decision to lend money on several criteria; the most important of these is a credit score. A credit score takes into account the following factors:
Past payment history

Current amounts owed/outstanding debts

Your length of credit history

The number of recent new credit requests

Types of credit used
You may have a low credit score and thus have trouble purchasing a vehicle at a fair price and with favorable financing terms if you have:
No or poor credit

Low credit score

No co-signer

Past bankruptcy or repossession
The good news, however, is sometimes these obstacles can be overcome. Some companies, such as MILES, specialize in helping you finance a vehicle despite your credit problems. Be prepared to pay a higher interest rate if you have any of these credit problems. Unfortunately, too many companies take advantage of individuals with past credit blemishes because these buyers feel they have no other alternative but to pay the extremely high interest rates or pay far more than the actual value of the vehicle.
I have a previous bankruptcy; can I still qualify for the MILES Program?
If you have a single bankruptcy and it has been discharged or dismissed, and you meet all of the other MILES criteria, you should qualify for the program. However, multiple bankruptcies, either filed or discharged is a disqualifier for the program.
I have a previous automobile repossession on my credit report; will this prevent me from utilizing the MILES Program?
As long as the original lien holder on the vehicle did not incur any loss from the repossession and your credit report shows the loan is paid in full, you may qualify for the program. Please contact the MILES Assistance Center at 1-866-466-4537 for further instructions.

Service Contract Information

What is a vehicle service contract?
  Whenever you buy a new car, the manufacturer typically has a warranty in place to cover your car in the event a part does not function properly. If you choose to purchase a used car, it is recommended you purchase a service contract from a reliable company with proper coverage (not just the power train) for your vehicle. Ideally, your coverage should be for a minimum of 36,000 miles or 36 months. This will help protect you and your family from expensive and unexpected repairs in case of a breakdown.


What special features does the MILES Service Contract have which are important to me? 
$0 Deductible: The MILES Service Contract features a $0 deductible when a covered repair is performed by any of our 500+ dealers of the MILES National Certified Dealer Network.
Car Rental: Car rental reimbursement will be paid during covered maintenance.
Roadside Service: Roadside Service on your approved vehicle can provide you with towing, jump starting, tire changes, lock out, and fluid delivery.
Trip Interruption (N/A in HI and WV): If you experience a mechanical breakdown more than 100 miles from home you may receive reimbursement for meals and lodging.
Note: See your Service Contract documentation for additional terms and conditions.
May I include the cost of the service contract in my loan?
  Yes, the MILES Service Contract cost can be financed with your vehicle loan.


Will my service contract cover me overseas?
  No. The service contract is valid in the 50 United States and Canada.


Is my Service Contract transferable?
  Yes, if you decide to sell your vehicle, the MILES Service Contract can be transferred to the new owner.
GAP Loss Protection

What is GAP protection?
  If your vehicle is declared a total loss, your auto insurance company may not cover the amount needed to pay off your finance contract. Auto insurance companies will generally pay the market value of the vehicle at the time of loss, minus your deductible. GAP is designed to protect you from an unexpected financial obligation if your vehicle is declared a total loss from causes such as theft, accident, fire, or flood, and your loan balance exceeds the NADA retail value of the vehicle at the time of loss. GAP will pay toward the difference between your vehicle's NADA retail value and the balance of your finance contract, including (in most states) up to $500.00 of your auto insurance deductible.


Why do I need GAP?
  GAP Loss Protection could save you thousands of dollars if your vehicle is declared a total loss or stolen. Here's why: Over time your vehicle depreciates, sometimes leaving a loan balance that is higher than the "market value" of your vehicle. Most insurance companies only pay "market value" for your vehicle at the time of loss minus your deductible - GAP will pay toward the difference.