If you're in the market for a small SUV and don't know about the Subaru Forester, yet. Listen up, because there is good reason to learn more about the newly redesigned 2014 Subaru Forester.
I get a daily news feed on everything "Subaru" that makes the news. This morning it dawned on me just how much news I've been seeing on the 2014 Subaru Forester! Every car and driver blog out there, including Consumer Reports is raving with accolades on the Subaru Forester. It's getting all the Subaru LOVE these days…
I hear: "the 2014 Subaru Forester earned IIHS top safety pick - no other small SUV was endorsed..." all day in the showroom, but most of you only hear it in passing (or in the "New Car Smell" campaign on TV). It's a bigger deal than you think, especially if you're considering a small SUV or crossover.
At Anderson Subaru we would LOVE for you to get to know what makes Subaru better than the rest, but more than anything we want to get you in the car that's right for you. So, all you Toyota RAV4 and Honda CRV shoppers, take another look at the class and see who is this year's valedictorian!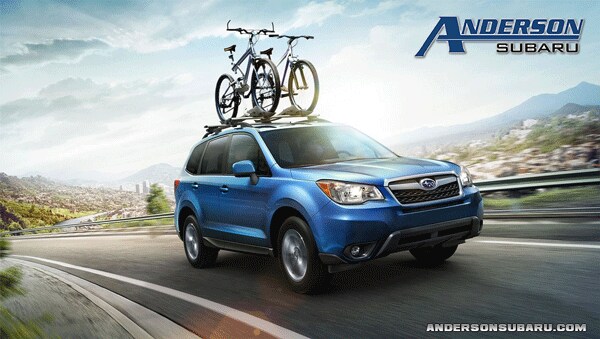 The new 2014 Subaru Forester is spanking RAV4, CRV, Escape, and CX-5 through and through. Here are just a few sources to consider:
2014 Subaru Forester: Across the board improvement - Portland Tribune
"The redesigned 2014 Subaru Forester won the Family Class category of Mudfest this year... The win was something of a surprise, since the Forester has long been considered a good bargain but not exactly a top class crossover. And the competition was stiff. it included four other redesigned crossovers - the Hyundai Santa Fe, Kia Sorento, Mitsubishi Outlander and Nissan Pathfinder - along with the sophisticated Volkswagen Touareg TDI."
New 2014 Subaru Forester is our top-scoring small SUV - Consumer Reports
"A new small SUV champion has been named: the 2014 Subaru Forester. This redesigned model earned an impressive road-test score of 88 points (out of 100 possible), besting last-year's model by eight points and trouncing the previous leader, the Honda CR-V, by 11 points. Yeah, it's that good."
2014 Subaru Forester Comes Out on Top in New Crash Test - Edmunds.com
""Each of the other 11 SUVs earns either a poor or marginal rating," said the IIHS in a statement on Thursday. Among the vehicles with the marginal rating in the small overlap crash test are the 2013 Nissan Rogue, Honda CR-V, Volkswagen Tiguan, Jeep Wrangler two-door, BMW X1 and Mazda CX-5."
A Crossover Jostling to Fit in Showrooms Already Full - The New York Times, New Cars
"With the introduction of the 2014 Forester, Subaru is sending a clear message: when it comes to pummeling, it is better to give than to receive - and the time has come to start throwing some punches."
Don't just take our word (or theirs) for it. See what the 2014 Subaru Forester is all about for yourself today...
Schedule a Test Drive
|
View 2014 Forester Inventory
|
Open the Digital Brochure