The 2021 Subaru Love Promise Customer Commitment Award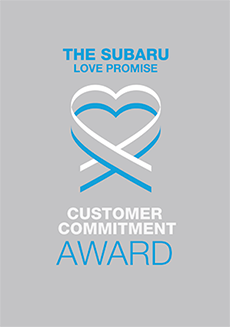 We've been nationally recognized for our dedication to our customers and the Subaru Love Promise.
We're honored to receive the 2021 Subaru Love Promise Customer Commitment Award. This award nationally recognizes Subaru retailers who demonstrate excellence in all areas of customer-focused performance. It highlights exceptional customer service that builds lifelong relationships with Subaru owners.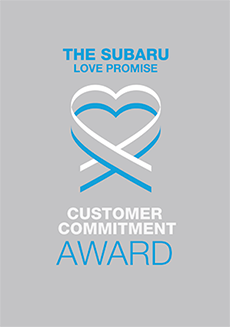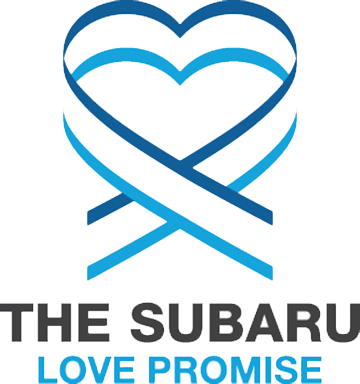 What is the Subaru Love Promise?
Subaru and our retailers believe in making the world a better place and the Subaru Love Promise is our vision of respecting all people. This is our commitment to show love and respect to our customers and to work to make a positive impact in the world.
How is Anderson Subaru dedicated locally to the Love Promise?
Our Love Promise can be seen in various partnerships with local charities and non-profits. We're grateful for the opportunity, not only to be a part of our community, but to serve it as well. We are always looking for ways to Spread Love... Just Because!
Phoenix Rising Rescue, Pensacola Humane Society
Lincoln Park Primary School
Feeding The Gulf Coast, Gulf Breeze Optimist Club
Pensacola Breast Cancer Association
Love Promise Stories from Anderson Subaru
Subaru and Anderson Subaru believe in making a positive impact on the communities in which we live and work. We uphold that belief through our Love Promise Community Commitment. Every month, we select inspiring stories from customers and partners from around our area who strive to support our collective commitment and feature them here
Adopt A Shelter Pet Day Event - Jessica F
April 29th is National Adopt A Shelter Pet Day and Anderson Subaru was so generous in letting us have the event at their dealership! Because of their help promoting the event, we were able to adopt out five of our shelter animals to wonderful homes! Two of the dogs were even adopted to employees of Anderson Subaru! Partnerships like theirs allows us to continue our mission which is to improve the lives of companion animals in our community through advocacy, adoption, education, and sanctuary. We hope to have more events with Anderson Subaru in the near future!
---
Someone You Know - Barbara D
Did you know that someone you know - a friend, a family member, a co-worker, someone - has most likely been affected by breast cancer? Nearly 13%, which is one in eight women, in the US will develop invasive breast cancer during their lifetime. Early screening and detection are vital in diagnosing and treating the disease and Pensacola Breast Cancer Association believes that every woman should have access to a lifesaving mammogram. The lack of accessibility and the pressure of medical expenses can often prohibit regular checkups and other ways of educating oneself about breast cancer, and so being able to help someone who lives in our community and in our neighborhoods is tremendous. Pensacola Breast Cancer Association has been raising funds to pay for mammograms for uninsured and underinsured women throughout Escambia and Santa Rosa Counties in Florida for 18 years and is able to do so because of faithful donors like Anderson Subaru, who generously donate to the cause every year. PBCA has been a fortunate recipient of Anderson Subaru's Share the Love event since 2014 and has helped over 500 women because of the donations totaling over $93,000 to date. All donations to PBCA stay local and are donated to two area non-profit facilities where the mothers, daughters, sisters, and aunts in our community can go to find the help, knowledge, and resources they need.
---
Easter egg hunt to remember!! - Kristen T
My family had a blast at the Subaru Easter event! Free fun for everyone, games for all ages, yummy food trucks and activities for kids. We appreciate the friendly staff of Anderson Subaru for hosting such a nice, clean and safe event! We look forward to more events like this in the community! Thank you Anderson Subaru!!!!
---
Anderson Subaru TRULY loves pets! - Carrie T
Last month, our rescue, Phoenix Rising Rescue, partnered with Anderson Subaru for an adoption event. This event was the focus of their annual Subaru Loves Pets month. We had such a fabulous experience. From the minute we arrived until the last car left for the day, the staff at Anderson were amazing. They were so helpful, courteous and excited to help with all the pups. Every one of our adopters was spoiled with free goodies from the dealership too....dog bowls, frisbees, toys, etc. It was a pleasure working with them and we will DEFINITELY we purchasing our future vehicles from this dealership. Its evident that they LOVE the dogs! The end result was SEVEN rescue dog/puppy adoptions AND one kitty! That's spectacular! Thank you Anderson Subaru for going above and beyond!!!
---
Anderson Subaru Loves Pets - Emily T
Every year Anderson Subaru steps up and participates in Subaru Loves Pets and this year was no exception. Anderson Subaru stepped up and showed love to pets in our community in greater ways than ever before this year. They've collected hundreds of pounds worth of pet food donations for the animal shelter, raised awareness for the local Fospice (Foster/Hospice) pets in our area through hosting a local Fospice program on make a dogs day to help educate customers and employees about the elderly and disabled dogs in our area. Anderson Subaru also participated in a local fundraising event called Barktoberfest which helped raise funds for a local animal shelter as well as hold one the largest dog adoption days in our community. In addition, Anderson Subaru will be making a large donation of everything collected during the month of October to donation to the Escambia County Animal Shelter. Anderson Subaru loves pets and it shows!
---
One in Eight - Cristi M
One in eight women in the US will develop invasive breast cancer during their lifetime. Research has shown that early screening and detection is vital for diagnosis and treatment. It is our belief that no mother, daughter, sister or aunt should have to forego a lifesaving mammogram because she cannot afford one. Pensacola Breast Cancer Association has been a fortunate recipient of Anderson Subaru's Share the Love event since 2015. We are a local non-profit organization with a volunteer Board of Directors that raises funds to pay for mammograms for uninsured and underinsured women in Escambia and Santa Rosa Counties in Florida. All of the money raised by Pensacola Breast Cancer Association stays local and is donated to the two area non-profit hospitals. Since its inception in 2003, Pensacola Breast Cancer Association has donated over $650,000 to our local healthcare organizations. Anderson Subaru has been a faithful donor to Pensacola Breast Cancer Association and since 2015 has donated over $56,200. Their donations have provided diagnostic services to over 500 area women. With the help of companies like Anderson Subaru, we are able to help save the lives of mothers, daughter, sisters and aunts in our community.
---
Anderson Subaru Hosts Service Dog Graduation - Emily T
On January 24th Anderson Subaru hosted the Service Dog University Inc., service dog graduation. This January there were 4 graduates who will then go on to work with their partners. The purpose of these service dogs is to help enhance the lives of individuals with disabilities by helping improve their independence, dignity, and quality of life. Each dog has been matched based on several factors including temperament, service strengths, and the unique needs of their handler. Each service dog graduate received their new service vest, certification, and cupcakes to celebrate their reaching this important milestone. Anderson Subaru was proud to partner with Service Dog University by providing a location for the 2019 graduation event as well as the necessary supplies for the hosting of this event. As part of our continued commitment to Subaru Loves Pets this event reminds everyone here at Anderson Subaru to celebrate the great work that so many in our community are involved in, including the great work our 4 legged friends here on the gulf coast!
---
Dream a Subaru then go to Anderson Subaru - Joyce G
I have been a long time fan of Subaru; but for reasons beyond my control over the years, I was unable to even think of owning one. About a month ago, my son and I were thinking of buying a new car and as people so often do, we went to the dealer where I bought my last car. We hesitated and on the way home, I said " why don't we stop and look at the Subaru...at least we'll know whether or not we want to consider a Subaru. We drove in very close to closing time and met Brian Jones and after talking to him and test driving the Forrester, we are now the proud owner of a Subaru; my long time dream finally realized.I want to say that first of all, Brian Jones is a true professional. He knows the product from beginning to end. He was so informative, we felt we knew why he showed such enthusiasm. In addition, he was attentive and friendly. We also had the pleasure of meeting some of the other personnel but Brian was the one who handled our transaction. Very impressive employee. We love our Forrester and will definitely use Anderson Subaru in Pensacola, Fl for all service on our vehicle.Like I said, Dream of owning a Subaru then visit Brian Jones at Anderson Subaru in Pensacola.
---
2nd Annual Happy Home For The Holidays Event - Laura B
Friends of the Escambia County Animal Shelter is so grateful for all the support we receive from Anderson Subaru. From Kennel Partnerships to semi annual adoption events, we know we can always count on them for help when our furry friends need it. We are excited every year for the annual Happy Home For The Holidays Event and the dogs love a chance to have a day away from the shelter! Thank you Anderson Subaru!!
---
GUlf Coast Tri Initiative 2016 – GCTT - GCTT
Living the Subaru Love Promise, Anderson Subaru partnered with the GC Tri Team for a Charity Bike and Triathlon initiative for two local Title 1 Schools – Oak Crest Elementary and Avalon Middle. The goal is to promote healthy lifestyles through multi-sport events by providing of bikes, helmets, and race entries. The Charity Initiative introduces youth athletes to athletic pursuits they may not have otherwise had the opportunity to discover. More than providing bikes to schools; this coordinated effort targets successful completion of multi-sport events (education, training, goal-setting). The members of the Team ascribe to the notion that their own participation and love in the sport has provided valuable insights that can be applied to life. Goal setting, preparation, sportsmanship, appreciation of "if you believe it, you can achieve it" – the adopted motto of the Initiative: Dream It. Believe It. Achieve It. Central to the program was keeping funds local, where the impact would be felt first-hand. GCTT reached out to Anderson Subaru – who came on board immediately. Anderson Subaru shares the vision, drive, motivation central to the mission of this Initiative. Without the support of Anderson Subaru, the program would not have realized it's first year success: 17 bikes donated, 2 school-based programs, 40+ youth multisport event finishes. More importantly, the smiling faces of the kids finishing their races said it all. https://vimeo.com/159005804
---
Blown Away by Subaru's Generosity - Stacey P
Anderson Subaru had their customers hand-write cards with words of encouragement and hope for patients going through treatment or who were recently diagnosed. On June 27th, several members of Anderson Subaru's staff and Mr. Anderson met with members of LLS to visit Sacred Heart Cancer Institute. With their visit, they presented Sacred Heart with 60 beautifully hand-made blankets and care cards.The hospital staff was blown away by the compassion and generosity of Subaru. During our interaction with the hospital staff, they told of stories of how patients receiving chemotherapy get together in classes and are often times cold. Anderson Subaru's staff were very touched by these stories and offered to come back and personally present a blanket to each patient within these groups and give them a personal message of hope and courage. The nurses and administration spoke in great length of how much that would mean to these patients. I was aware of Subaru's commitment to the community through various programs, however I had no idea how far their philanthropy reached. The goodwill of the company flows down from the top; every member of Anderson Subaru's team had a spirit of compassion that is rare in today's sales driven society. My respect for Subaru is now tenfold, they are the real deal, if you have any doubts just walk down the hall of Sacred Heart's Cancer Institute and look into the eyes of those receiving these gifts of warmth, love and compassion. Subaru indeed, Loves to Care!
---
Meet A Neighbor In Need: Rachel's Story - JoAnn H
Rachel* is a young mother struggling to take care of two small children, 3 year old Aiden and 7 month old Joshua. Since having the baby she has been unable to return to work. She has no family in the area to help with the kids and she can't afford childcare. Fortunately her boyfriend has a job that provides for their basic expenses, such as rent, utilities, car and insurance payments. Once the bills are paid, there just isn't enough money left over for food. Each month, being able to provide enough food, much less nutritious food, takes a backseat to the bills. Thanks to generous donors like you, MANNA was able to provide a 5 day supply of nutritionally balanced groceries to Rachel and Aiden, and formula and baby food for little Joshua. She was also encouraged to apply for SNAP benefits until she was able to return to work. Rachel is just one example of many in our community who struggle to pay their bills and provide enough food for their families. On average it takes roughly 3 pounds of donated food or $5 per day to feed someone in need. Thanks to the generous $500 contribution we received from Anderson Subaru following the flood that destroyed our facility in April 2014 and the 329 pounds of donated food we received from the food drive in July 2015, we were able to help another 210 people in need. Thank you Anderson Subaru for helping us fight hunger in our community! *Names are changed and stock photos are used to protect client confidentiality.
---
Subaru Loves Learning Book Drive- August 1 - 31 - Danielle S
Join us in our Subaru Loves Learning initiative during the month of August! We are partnering with the American Association for the Advancement of Science (AAAS) in donating science books to Lincoln Park Primary School in the Escambia County School District. All of the books that will be donated have been recognized by AAAS as some of the best science books in their field. Contact us to learn more information.
---
Anderson Subaru Collects 120+ cu.ft. of EWaste - Helen M
As a part of the Subaru Love Promise, Anderson Subaru of Pensacola collected unwanted electronics free of charge in April during our "E-Waste Recycling Event". Throughout the month we invited customers to drop off old TVs, unwanted computers and other discarded electronics to be recycled. By responsibly recycling this E-Waste, our customers have helped us prevent 120+ cubic feet of waste from entering landfills and kept the toxic compounds found in those electronics from entering our soil and waterways! Thank you to everyone who participated in the event! We greatly appreciate your support in helping to protect the environment! Congratulations also to Jean Lillard of Pensacola FL, who won our grand prize giveaway of an iPad mini. (Participants who dropped of E-Waste at our E-Waste drive on April 18th had the option to enter the drawing.)
---
"Don't Lose Your Love" - Billy A
In 2014, Anderson Subaru of Pensacola partnered with SouthBARK Animal Rescue to provide low cost micro chipping to the community. "Don't Lose Your Love" was a tremendous success resulting in 368 pets micro chipped to date! These events will help to reunite lost pets with their rightful owner should they become lost. This was a wonderful community service project which benefited our rescue as well. More events are being planned for 2015. Don't Lose Your Love! WOOF!!
---
April 1-30, 2015 E-Waste Recycling Event - Molly M
Throughout the month of April, we are hosting an E-Waste Recycling Event in our store to collect unwanted electronics. We've arranged to work with a company who will responsibly collect, re-purpose, and recycle your electronic waste. Help us protect our environment. Just show up with your E-Waste and we'll do the rest! The first 50 customers who contribute will receive a complementary environmental badge of ownership. We will accept: LCD Monitors, Cell Phones, Laptops, Tablets, CRTs up to 40", Video Games/Consoles, Fax Machines, DVD/VCR Players, Printers, Computer Peripherals, Switches/Routers, Cords and Wires.
---