The 2022 Subaru Love Promise Customer and Community Commitment Award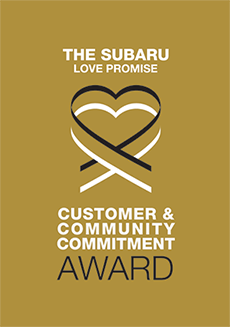 We've been nationally recognized for our dedication to our customers, our community, and the Subaru Love Promise.
We're honored to receive the 2022 Subaru Love Promise Customer and Community Commitment Award. This award nationally recognizes elite Subaru retailers who provide an exceptional customer experience at every interaction with Subaru. These retailers have also demonstrated an outstanding commitment to supporting passions and causes in their local communities in important areas such as the environment, community, health, education, and pets.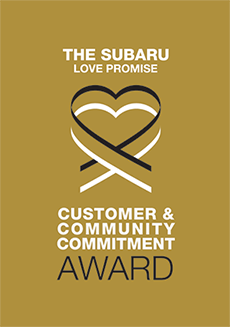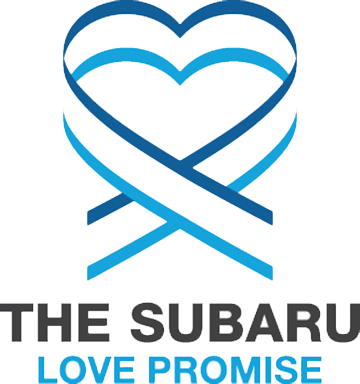 What is the Subaru Love Promise?
Subaru and our retailers believe in making the world a better place and the Subaru Love Promise is our vision of respecting all people. This is our commitment to show love and respect to our customers and to work to make a positive impact in the world.
How is Anderson Subaru dedicated locally to the Love Promise?
Our Love Promise can be seen in various partnerships with local charities and non-profits. We're grateful for the opportunity, not only to be a part of our community, but to serve it as well. We are always looking for ways to Spread Love... Just Because!
Phoenix Rising Rescue, Pensacola Humane Society
Sherwood Elementary School
Feeding The Gulf Coast, Gulf Breeze Optimist Club
Pensacola Breast Cancer Association
Love Promise Stories from Anderson Subaru
Subaru and Anderson Subaru believe in making a positive impact on the communities in which we live and work. We uphold that belief through our Love Promise Community Commitment. Every month, we select inspiring stories from customers and partners from around our area who strive to support our collective commitment and feature them here
Extending Support to Help Those in Need - Amanda Y
In early Spring, as many of our agencies were still recovering from responding to the drastic increase in need last year, Feeding the Gulf Coast was honored to regrant funding to many of our agencies in Mississippi and Florida thanks to the generous support and donation from Subaru of America, Inc. through their Subaru Loves to Help campaign. One such agency, New Beginnings Worship Center in Moss Point, Mississippi, stressed their gratitude, "Thank you all for the $500 credit on the food purchase. New Beginnings truly appreciates it. Thank you for your hard work." The food purchasing credit allowed so many of our partner agencies a chance to breathe and rebuilt their inventory, expanding their ability to reach so many struggling to recover after job loss and hardship created by the economic strains of the COVID-19 Pandemic. In total, the philanthropic grant from Subaru of America, Inc. will help our agencies provide nearly 126,500 meals to those facing hunger along the Central Gulf Coast.
---
Adopt A Shelter Pet Day Event - Jessica F
April 29th is National Adopt A Shelter Pet Day and Anderson Subaru was so generous in letting us have the event at their dealership! Because of their help promoting the event, we were able to adopt out five of our shelter animals to wonderful homes! Two of the dogs were even adopted to employees of Anderson Subaru! Partnerships like theirs allows us to continue our mission which is to improve the lives of companion animals in our community through advocacy, adoption, education, and sanctuary. We hope to have more events with Anderson Subaru in the near future!
---
Someone You Know - Barbara D
Did you know that someone you know - a friend, a family member, a co-worker, someone - has most likely been affected by breast cancer? Nearly 13%, which is one in eight women, in the US will develop invasive breast cancer during their lifetime. Early screening and detection are vital in diagnosing and treating the disease and Pensacola Breast Cancer Association believes that every woman should have access to a lifesaving mammogram. The lack of accessibility and the pressure of medical expenses can often prohibit regular checkups and other ways of educating oneself about breast cancer, and so being able to help someone who lives in our community and in our neighborhoods is tremendous. Pensacola Breast Cancer Association has been raising funds to pay for mammograms for uninsured and underinsured women throughout Escambia and Santa Rosa Counties in Florida for 18 years and is able to do so because of faithful donors like Anderson Subaru, who generously donate to the cause every year. PBCA has been a fortunate recipient of Anderson Subaru's Share the Love event since 2014 and has helped over 500 women because of the donations totaling over $93,000 to date. All donations to PBCA stay local and are donated to two area non-profit facilities where the mothers, daughters, sisters, and aunts in our community can go to find the help, knowledge, and resources they need.
---
Easter egg hunt to remember!! - Kristen T
My family had a blast at the Subaru Easter event! Free fun for everyone, games for all ages, yummy food trucks and activities for kids. We appreciate the friendly staff of Anderson Subaru for hosting such a nice, clean and safe event! We look forward to more events like this in the community! Thank you Anderson Subaru!!!!
---
Anderson Subaru TRULY loves pets! - Carrie T
Last month, our rescue, Phoenix Rising Rescue, partnered with Anderson Subaru for an adoption event. This event was the focus of their annual Subaru Loves Pets month. We had such a fabulous experience. From the minute we arrived until the last car left for the day, the staff at Anderson were amazing. They were so helpful, courteous and excited to help with all the pups. Every one of our adopters was spoiled with free goodies from the dealership too....dog bowls, frisbees, toys, etc. It was a pleasure working with them and we will DEFINITELY we purchasing our future vehicles from this dealership. Its evident that they LOVE the dogs! The end result was SEVEN rescue dog/puppy adoptions AND one kitty! That's spectacular! Thank you Anderson Subaru for going above and beyond!!!
---
Anderson Subaru Loves Pets - Emily T
Every year Anderson Subaru steps up and participates in Subaru Loves Pets and this year was no exception. Anderson Subaru stepped up and showed love to pets in our community in greater ways than ever before this year. They've collected hundreds of pounds worth of pet food donations for the animal shelter, raised awareness for the local Fospice (Foster/Hospice) pets in our area through hosting a local Fospice program on make a dogs day to help educate customers and employees about the elderly and disabled dogs in our area. Anderson Subaru also participated in a local fundraising event called Barktoberfest which helped raise funds for a local animal shelter as well as hold one the largest dog adoption days in our community. In addition, Anderson Subaru will be making a large donation of everything collected during the month of October to donation to the Escambia County Animal Shelter. Anderson Subaru loves pets and it shows!
---
One in Eight - Cristi M
One in eight women in the US will develop invasive breast cancer during their lifetime. Research has shown that early screening and detection is vital for diagnosis and treatment. It is our belief that no mother, daughter, sister or aunt should have to forego a lifesaving mammogram because she cannot afford one. Pensacola Breast Cancer Association has been a fortunate recipient of Anderson Subaru's Share the Love event since 2015. We are a local non-profit organization with a volunteer Board of Directors that raises funds to pay for mammograms for uninsured and underinsured women in Escambia and Santa Rosa Counties in Florida. All of the money raised by Pensacola Breast Cancer Association stays local and is donated to the two area non-profit hospitals. Since its inception in 2003, Pensacola Breast Cancer Association has donated over $650,000 to our local healthcare organizations. Anderson Subaru has been a faithful donor to Pensacola Breast Cancer Association and since 2015 has donated over $56,200. Their donations have provided diagnostic services to over 500 area women. With the help of companies like Anderson Subaru, we are able to help save the lives of mothers, daughter, sisters and aunts in our community.
---
Anderson Subaru Hosts Service Dog Graduation - Emily T
On January 24th Anderson Subaru hosted the Service Dog University Inc., service dog graduation. This January there were 4 graduates who will then go on to work with their partners. The purpose of these service dogs is to help enhance the lives of individuals with disabilities by helping improve their independence, dignity, and quality of life. Each dog has been matched based on several factors including temperament, service strengths, and the unique needs of their handler. Each service dog graduate received their new service vest, certification, and cupcakes to celebrate their reaching this important milestone. Anderson Subaru was proud to partner with Service Dog University by providing a location for the 2019 graduation event as well as the necessary supplies for the hosting of this event. As part of our continued commitment to Subaru Loves Pets this event reminds everyone here at Anderson Subaru to celebrate the great work that so many in our community are involved in, including the great work our 4 legged friends here on the gulf coast!
---
Dream a Subaru then go to Anderson Subaru - Joyce G
I have been a long time fan of Subaru; but for reasons beyond my control over the years, I was unable to even think of owning one. About a month ago, my son and I were thinking of buying a new car and as people so often do, we went to the dealer where I bought my last car. We hesitated and on the way home, I said " why don't we stop and look at the Subaru...at least we'll know whether or not we want to consider a Subaru. We drove in very close to closing time and met Brian Jones and after talking to him and test driving the Forrester, we are now the proud owner of a Subaru; my long time dream finally realized.I want to say that first of all, Brian Jones is a true professional. He knows the product from beginning to end. He was so informative, we felt we knew why he showed such enthusiasm. In addition, he was attentive and friendly. We also had the pleasure of meeting some of the other personnel but Brian was the one who handled our transaction. Very impressive employee. We love our Forrester and will definitely use Anderson Subaru in Pensacola, Fl for all service on our vehicle.Like I said, Dream of owning a Subaru then visit Brian Jones at Anderson Subaru in Pensacola.
---
2nd Annual Happy Home For The Holidays Event - Laura B
Friends of the Escambia County Animal Shelter is so grateful for all the support we receive from Anderson Subaru. From Kennel Partnerships to semi annual adoption events, we know we can always count on them for help when our furry friends need it. We are excited every year for the annual Happy Home For The Holidays Event and the dogs love a chance to have a day away from the shelter! Thank you Anderson Subaru!!
---