At Anderson Subaru, the only thing we love more than Subarus is our customers. All dealerships can say that, but we really do mean it... If you don't believe us, check out the November release of Ranking Data by the Subaru Owner Loyalty Program:
Anderson Subaru Ranking Report: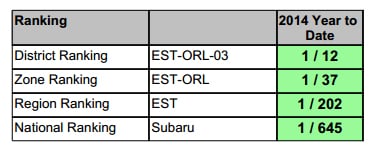 We are so excited to share this news with you! What a great testament to you our customers, and we are honestly thankful for your loyalty. We are thankful for having customers who are not shy about sharing their experiences.



What is the Subaru Owner Loyalty Program?
Every new car manufacturer in the world sends out surveys to follow up on their recent new vehicle customers, and Subaru is no different. Our Sales Persons are kept in high scrutiny in order to fulfill the values of Subaru. Subaru is simply "testing" their dealerships to see how well they treat customers, as a matter of quality control. Sales Persons are given bonuses based on their scores, and likewise they are punished for not-so-great survey scores. The entire Sales Team at Anderson Subaru is expected to have high scores, and the ownership takes the number to heart.