Anderson Subaru strives to deliver the ultimate car buying and service experience to our customers. In recent months, our employees were challenged to nominate their fellow team members by sharing instances where their fellow employees went "above and beyond" to provide exemplary customer service. One lucky nominee, as well as the team member who witnessed the good deed, would be chosen as "winners" and be awarded dinner for two at the restaurant of their choosing.

---
The "Above and Beyond" Winners: Tony Dawson and Ricky McCarty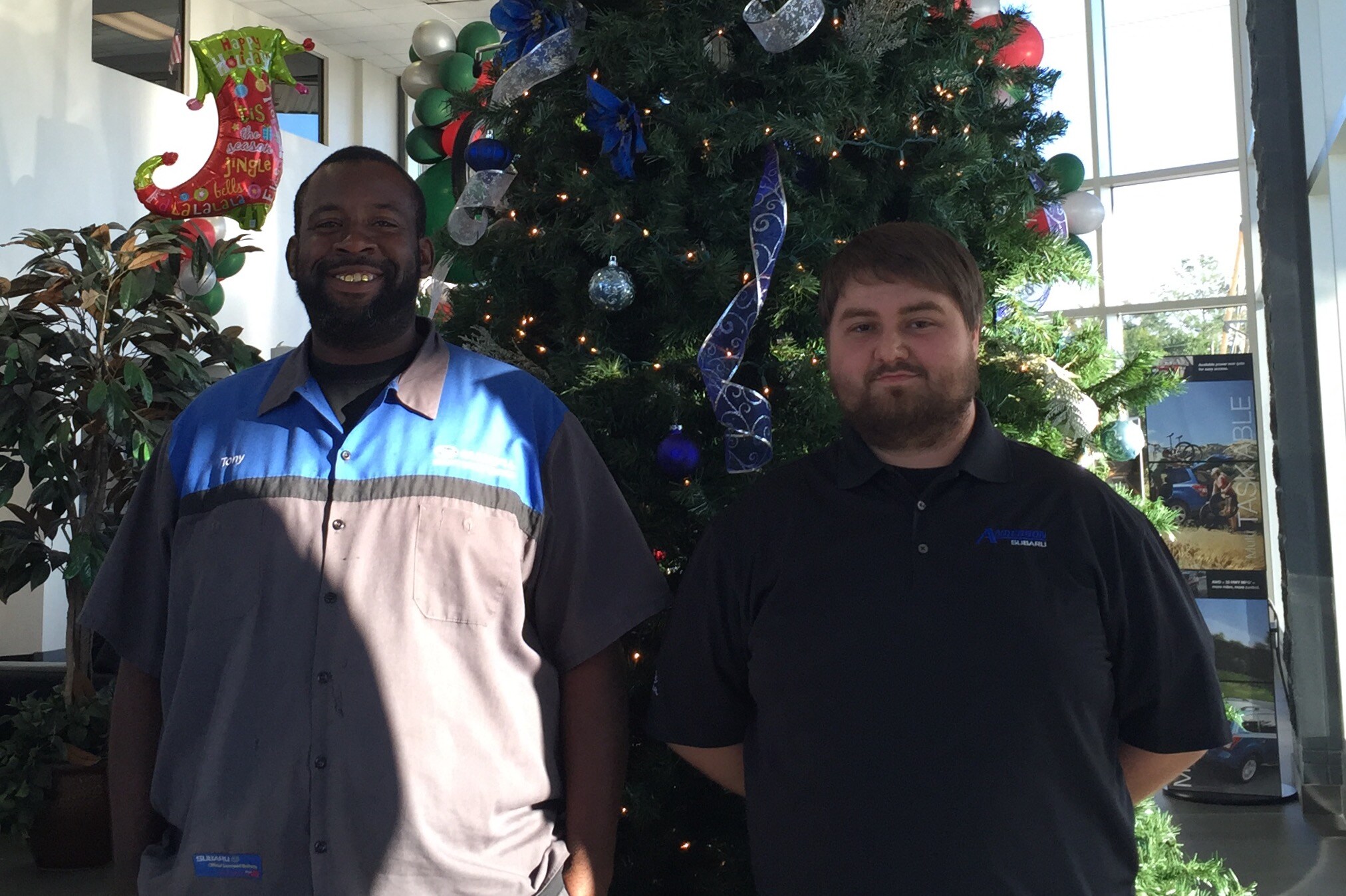 ---

The Stories

One...
A customer was having his car serviced and had two dogs with him. The customer was an elderly gentleman and was having difficulty containing one of the dogs that was quite large. One of our service personnel took note of the situation and grabbed a Subaru leash off the display rack. He loaned it to the customer during his visit and the customer was very appreciative.
Two...
A customer was having a difficult time understanding the explanation for the much-needed repairs to his vehicle. One of our service technicians went the extra mile by remaining exceptionally patient and working with the customer to make sure they were comfortable with the repairs. The witness said he was very impressed and has rarely seen someone remain so patient in such a scenario.
Three...
One of our employees in the detailing department went above and beyond by helping a customer with uncommon requests. The customer had requested a detail on their vehicle with over 100,000 miles on it, but was very particular in his wishes for work performed, such as asking for paint restoration in certain areas. The employee returned the vehicle exceeding all the customer's expectations.
Four...
A customer recently purchased a new Forester from Anderson Subaru as well as a Subaru luggage rack. The customer had to remove the luggage rack, but was unable to reinstall it due to some unexpected and serious medical issues that left him confined to his home. The wife called Anderson Subaru and asked if there was any way we could send someone out to reinstall it, as she could not pick up the carrier to load it and the vehicle was needed for an unscheduled trip out of town.
An Anderson Subaru technician sacrificed his own work time and went to the house to install the luggage carrier. The customers were almost brought to tears at our willingness to help them at a time they were in desperate need. This was done at no charge and the customer was wished a Merry Christmas.
---
Thanks to our customers for trusting us with your business, we wouldn't be here without you. And we vow to continue to deliver the ultimate customer service experience at Anderson Subaru every day, contest or not!