Pensacola, Fla., July 1, 2016 -- Anderson Subaru donated 60 blankets to the Sacred Heart Cancer Center as an out reach of the
Subaru Loves to Care
initiative of June 2016. Throughout the year, Anderson Subaru participates in various community projects in their commitment to the Subaru Love Promise.
The blankets, which were presented to Sacred Heart Hospital on June 29th, were distributed by Anderson Subaru and sponsored through a national program with Subaru of America and the Leukemia & Lymphoma Society (LLS). The blankets will be used by patients undergoing cancer treatment at the hospital.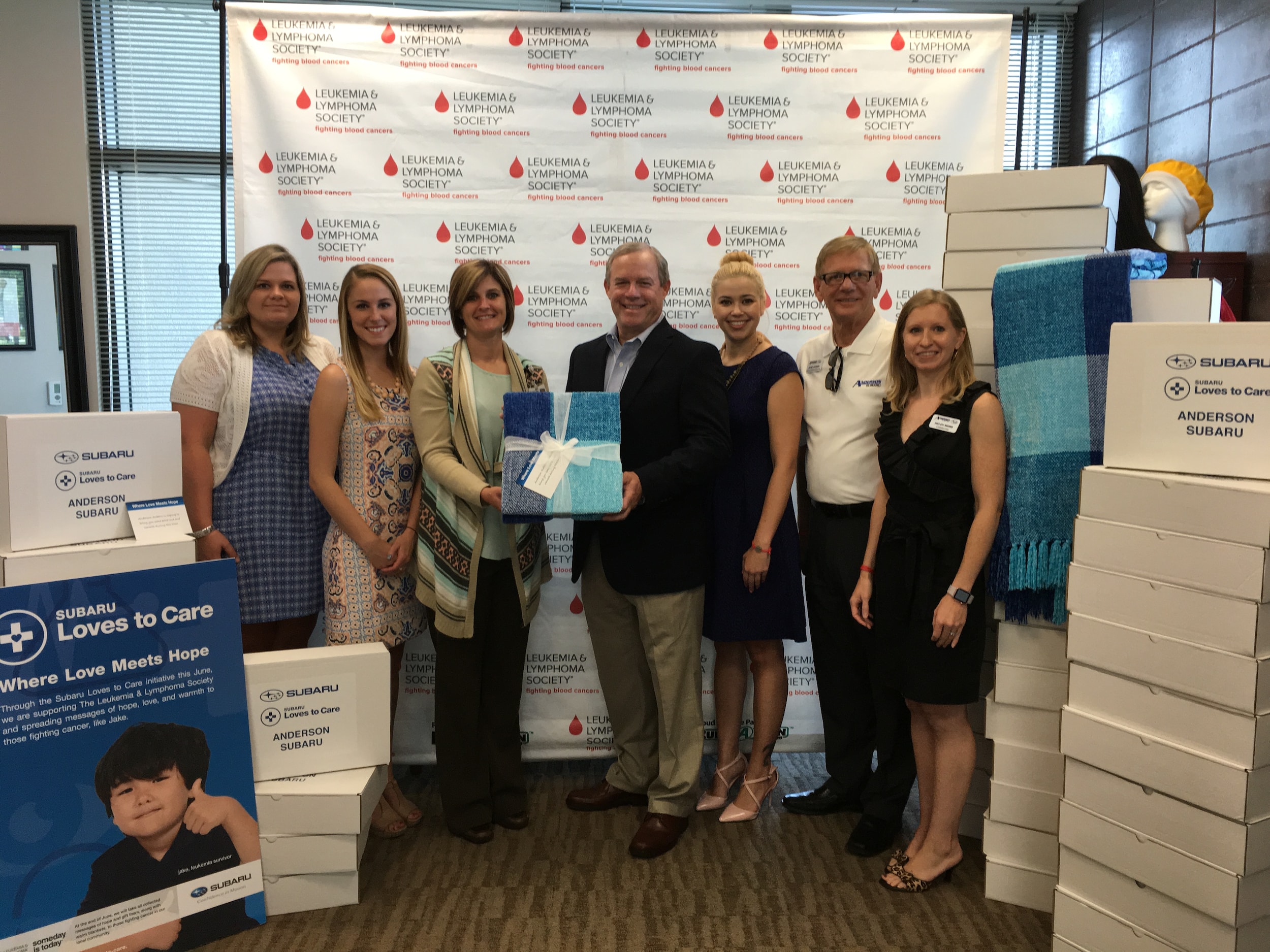 "LLS is excited to be partnering with Subaru on this promotion. Our goal is find a cure for blood-cancers but we also take great pride in providing patients with care and support during treatment and other difficult times," said Stacey Parden Brandau, Campaign Specialist for the Alabama Chapter of LLS.
Helen Moss, Digital Marketing and Brand Manager for Anderson Subaru, added that she feels the message behind the campaign is particularly meaningful.
"Partnering with LLS for this year's Subaru Loves to Care initiative has really given our store and our customers the opportunity to make an impact in the community," she said. "For us, it also provides an opportunity to send a personal message to a patient fighting cancer while sending an even bigger message to the community that we can all help in some way."
What is the Subaru Love Promise?
The
Subaru Love Promise
is just that. A promise. It is a promise to do right by our community by partnering with nonprofit education, health, community, environment, and animal organizations - to set Subaru apart through our deeds and the deeds of our partners. To be unlike any other car company by doing what is right and good, just for the sake of doing it.
Photo courtesy of Sacred Heart
. Pictured Left to Right: Stacey Parden Brandau and
Taylor Shutt
of the Leukemia & Lymphoma Society's Alabama Gulf Coast chapter; Angie Laing, Director, Oncology Services, Sacred Heart Cancer Center; Billy
Anderson, Owner, Subaru; Sarah Tsuji, Subaru; Ricky Stokes, Subaru; and Helen Moss, Subaru.
IN RELATED COMMUNITY NEWS...
Anderson Subaru will be hosting a Blood Drive to help the local blood bank on Friday, July 22, from 11 am to 4 pm. Look for the big red OneBlood Bus. Come and donate, come SAVE A LIFE! Email: helen@andersonsubaru.com to sign up or for more information.