guest blog post from: Kimbery Devitt


My Subaru Legacy wasn't always my first love. In fact, my first love was my Toyota Camry. Well, they say most people fall in love more than once in their lifetime and I have fallen hard for my Subaru Legacy.
How do I love thee? Let me count the ways...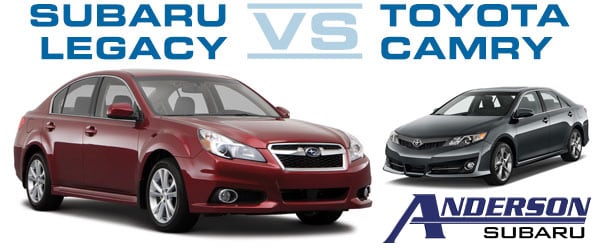 1) All-Wheel Drive.
A standard feature on the Subaru Legacy, AWD comes in handy on everything from mountain drives to off-roading beach trips. Camry doesn't feature symmetrical AWD standard.
2) Safety.
Subaru is the only manufacturer with IIHS Top Safety Picks for all 2012 models and has received topped safety picks for three years running.
3) Resale Value.
The Subaru Legacy has a higher predicted resale value than the Toyota Camry and all other mid-size cars, according to ALG. Let me be clear, the thought of selling my car nearly brings a tear to my eye. However, it's nice to know that IF I were to sell it, the Legacy holds its value.
4) Interior space.
To give you an idea of just how roomy it is, I slept in my car last night. Not only did I sleep in my car, but I enjoyed a good night's rest! My seat reclines allllll the way back. Take that, overpriced hotels!
5) Performance.
Simply put, I enjoy the driving experience so much that I genuinely WANT to go the grocery store, run errands or drive 3,000 miles across the country.
When compared to the Toyota Camry, the advantages found in the Legacy are apparent. To re-cap, the Subaru Legacy boasts AWD, top safety picks, a higher resale value, abundance interior space and exceptional driving performance.
Sayonara, Toyota Camry. I've found my new love: the Subaru Legacy.